"Everybody, at the end of the day wants to come back with the best shot." The Bang Bang Club.
Wow, does this film give some food for thought.
Where …are they getting the guns?

What …do you care man, it doesn't matter. Just take the picture!
***
The movie, The Bang Bang Club, follows the lives of four war photographers during the apartheid in South Africa and their adventures while they attempted to record and broadcast the events of the conflict through image.
Although the film did capture part of the emotional journey, the film makers did not interrogate the moral and ethical dilemmas as deeply as they could have.  Instead, the film chooses to follow the stories of the men more generally and to refer to greater issue indirectly.
This doesn't detract completely however from the question underlying the film: what is the role of photojournalist in a war zone, a person driven by humanity or by the passion and job description?
How then, does that fit in with moral and ethical expectations that we have as a society?
***
Kevin Carter, one of the four members of the club profiled in the film, committed suicide shortly after being awarded the Pulitzer Prize for taking a photo of a starving child in Southern Sudan.
The guilt of not doing anything to save the child, and moreover being constantly asked and berated for his "inhumanity" was said to be his undoing.
…But who are we, as mere observers, to tell people like conflict photographers what they should and shouldn't do in the line of duty?  How would we know what we would do in such a position?
The more important question is…Should they interfere? Are we allowed to judge them as we do if they do not?
It is interesting to read interviews with the journalists themselves, years after the fact.  For example Greg Marinovich speaks below about the piece "Mob Attack".
***
…the door was flung open and this guy with a scarf tied like a turban around his head came dashing out. He looked me straight in the eyes, and then took off.
All these other men started chasing him, and he hadn't gone far when he was brought down. About 15 or 20 men were all around him, hitting and stabbing and clubbing. And I was right there, photographing it. On the one hand, I was horrified, and at the same time I was thinking: what should the exposure be?
It was the old days: analogue, manual focus, crappy cameras. I felt torn between the horror of what I was seeing and trying to capture it. I was also thinking, how am I going to survive this? Because sooner or later these people are going to say, "There's this guy taking pictures of us committing murder." I was 1km from my car and the nearest outsider.
They killed him. And then one of them turned and said, "The white guy's photographing." Everyone leapt away, and I said, "No, it's fine, it's fine. Why did you kill him? Who is he?"
It was my first exposure to such a thing. And although, as a journalist, my reaction was fine, as a human being I felt I'd really let myself down [emphasis added]. It wasn't how I'd expected I'd react – I thought I'd try to intervene, or do something more noble. Yet I hadn't. I was really quite torn up about that. I was gutted that I'd been such a coward. From that moment, I was determined that, no matter what, I'd try to intervene and save someone if I could.
***
Greg's Photo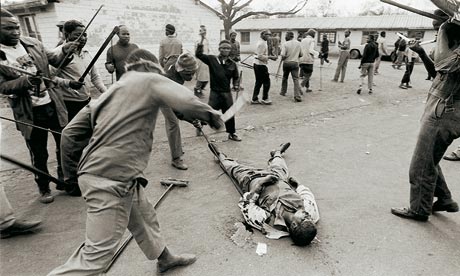 It cannot be easy, and it isn't an area with black and white distinctions; war never is.  It is easy for those sitting in comfortable chairs at home to disparage decisions made in the heat of the moment of an intense conflict zone.  The fact of the matter remains that without photojournalists, journalists and the men and women who put themselves in the line of fire to report, we would never have records of the atrocities that occur around the world.
As a society, we send soldiers out to fight on behalf of our "freedom", but then avoiding dealing with the effects of war on a conscious.  Similarly, I believe these photographers, and many journalists in similar situations around the world, sacrifice a part of themselves for what they believe is a greater cause.  It is a sacrifice they have volunteered, and sometimes, they pay the ultimate price.
Whether we agree with their actions in the heat of the moment is a speculative, and a question of morals and values based on the individual.  Either way, we as a society should be grateful.
***
Read more about this fascinating topic via the links below: